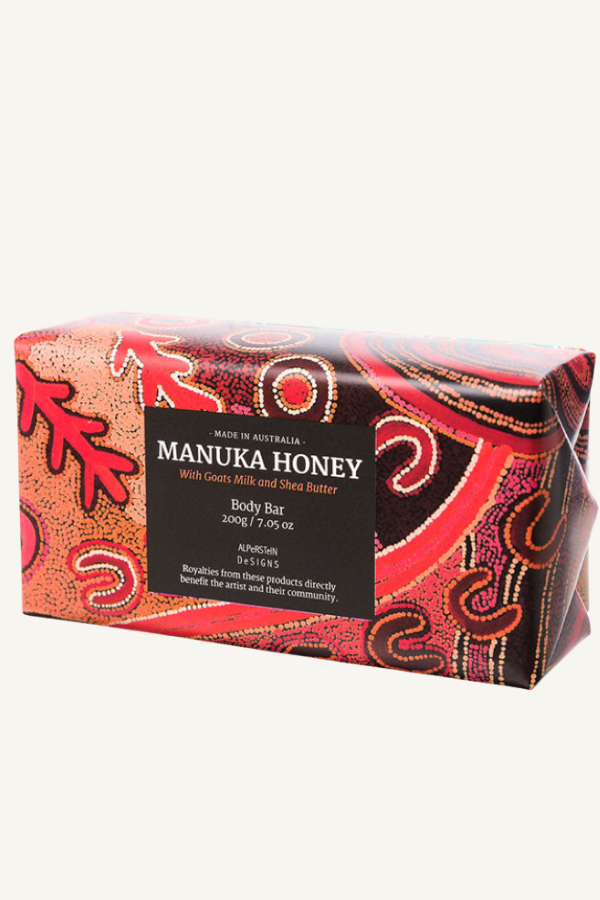 Regular price
Sale price
$13.00
Unit price
per
check_circle In Stock
cancel Sold out
Free Pick Up at Kakadu Plum Co. — (17/95 White Street, Mordialloc)

Usually ready in 4 hours —
Free delivery — on all orders over

$99

!
Manuka Honey with Goats Milk & Shea Butter Body Bar

Beautiful Australian Made Soap hand wrapped featuring artwork by Theo (Faye) Nangala Hudson from Warlukurlangu Artists of Yuendumu, Australia.
From a tradition spanning thousands of years comes a piece of art that is a wonderful mix of beauty and practicality…

Alperstein's Aboriginal Art collection is a bright collection of objects that feature the artworks of some of Australia's finest Indigenous artists. With their bold colours and intricate designs, these pieces skillfully reflect the works on which they're based.

But there's an added bonus to Alperstein's indigenous art reproductions, directly benefits the artists and their community, so you'll be helping out isolated settlements in outback Australia with your purchase.

Now you can breathe in the fresh, aromatic fragrance of the Australian outback with Alperstein's collection of Body Bars with natural local ingredients including Macadamia Oil, Kakadu Plum, Manuka Honey and Lemon Mrytle. They're resplendently packaged in art work from each artist.  Stack them up on your bathroom shelf to make an arresting display. The only certainty is that they're so naturally good, you'll want to use them always.
Product info
Made in Australia.
Crafted from macadamia oil with goats milk & shea butter.
All natural ingredients.
Not tested on animals.
Makes a sweet gift for overseas guests.
Royalties from this product directly benefits the artist and their community.
Art work is reproduced under licence.
About the artist
Theo (Faye) Nangala Hudson was born in 1989 in Alice Springs Hospital, the closest hospital to Nyirripi, a remote Aboriginal community located 440 km north-west of Alice Springs in the NT of Australia where her parents lived. She was born to Mika and Ursula Napangardi Hudson and has older twin brothers. Theo attended the local school until she was 14 years.  When she left school she did odd jobs and later joined the Nyirripi Night Patrol, a service that provides safe transportation; diversion from contact with the criminal justice system;  and intervention to prevent disorder in communities. Theo is married and has three children.
Theo began painting with the Warlukurlangu Aboriginal Corporation, an Aboriginal owned and governed art centre located in Yuendumu in 2002, when she was 13 years of age. "I would watch my Grandmother paint and listen to her stories". She began to paint in earnest with the art centre in 2006. Warlukurlangu makes regular visits to Nyirripi to drop off canvas, paint and brushes for the artists and to collect finished artwork. Theo paints her mother's Jukurrpa (Dreamings) and her father's Jukurrpa, such as Yuparli Jukurrpa (Bush Banana Dreaming) from her mother's side and Pikilyi Jukuurpa (Vaughan Springs Dreaming) from her father's side.  These Dreamings have been passed down through the millennia. Theo uses an unrestricted palette and loves to create patterns that depict a modern interpretation of her traditional culture.
When Theo is not painting and looking after her family she likes to go hunting for Yurrampi (honey ants) and Yuparli (bush banana).
BUNURU
These products were perfect for the Give Away Hamper at work to celebrate BUNURU and Indigenous artists . I look forward to purchasing more in the future for each of the Seasons to come and for myself .
Thank you. lovely soap
Thanks Tahlia,
I congratulate you on your enterprise and wish you great success. I have tried one or two of your products and really liked them. I think all cultures should be celebrated and enjoyed by each other. Perhaps one day we will see such harmony. In the meantime, I wish you continued success.
Kind regards
Sue
Read above honey from jarrah and marri better than no honey