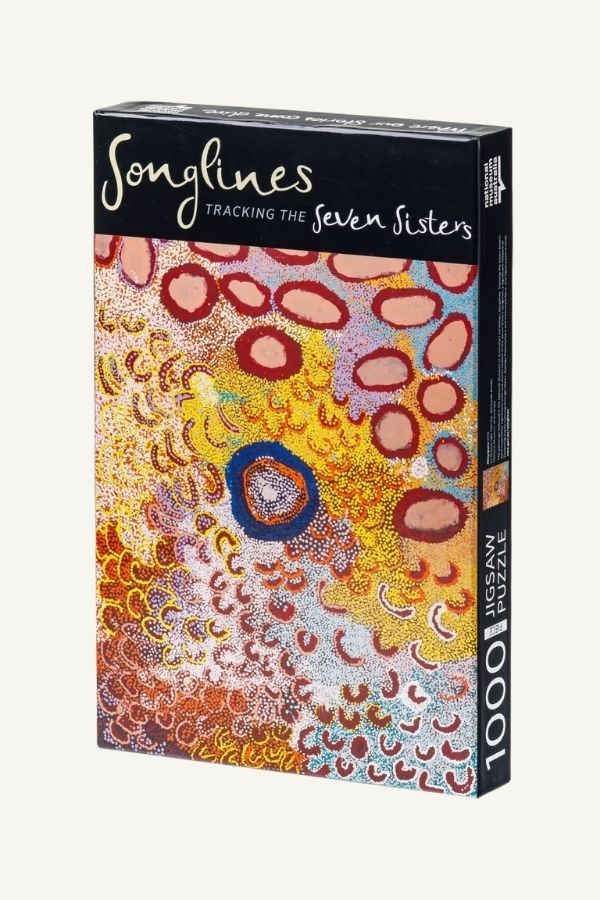 Jigsaw Puzzle - Songlines: Tracking the Seven Sisters
Regular price
Sale price
$39.00
Unit price
per
check_circle In Stock
cancel Sold out
Free Pick Up at Kakadu Plum Co. — (17/95 White Street, Mordialloc)

Usually ready in 4 hours —
Free delivery — on all orders over

$99

!
This puzzle is a collaboration with National Museum Australia. 

1000 pieces
Songlines: Tracking the Seven Sisters was an Aboriginal-led exhibition that took visitors on a journey along the epic Seven Sisters Dreaming tracks, through art, Indigenous voices and innovative multimedia and other immersive displays.
Songlines: Tracking the Seven Sisters journeyed along the Ancestral routes of the Seven Sisters as they fled across deserts, pursued relentlessly by a sorcerer. Stories originally performed on country are shared in new ways, with artworks becoming portals to the deserts of the Martu, the Ngaanyatjarra and the Anangu Pitjantjatjara Yankunytjatjara peoples.
Yaritji Young, Freda Brady, Maringka Tunkin and Tjungkara Ken, 2016:
We are all kanguru pulka, big sisters, to the young women. Like in the Seven Sisters story — we must teach and protect our young sisters. This is like our painting, too. When we work together as a family, we are learning and teaching each other and our young sisters and daughters … this important Tjukurpa.

 
I love jigsaws, but this is a very very difficult one to do and I gave up, sadly
Tracking the seven sisters
Excellent puzzle
Quick delivery
Beautiful car colours
Jigsaw Puzzle - Songlines: Tracking the Seven Sisters
Jigsaw Puzzle - Songlines: Tracking the Seven Sisters
seven sisters
Lovely picture. Much patience required due to the cutting of the pieces, rectangular with less variation than most jigsaws. Will need a long lock down for this one.