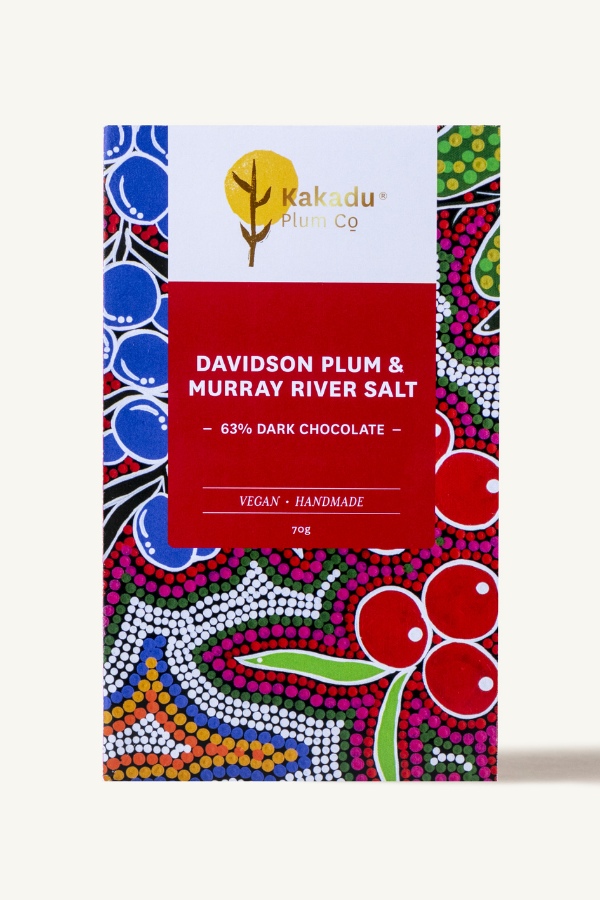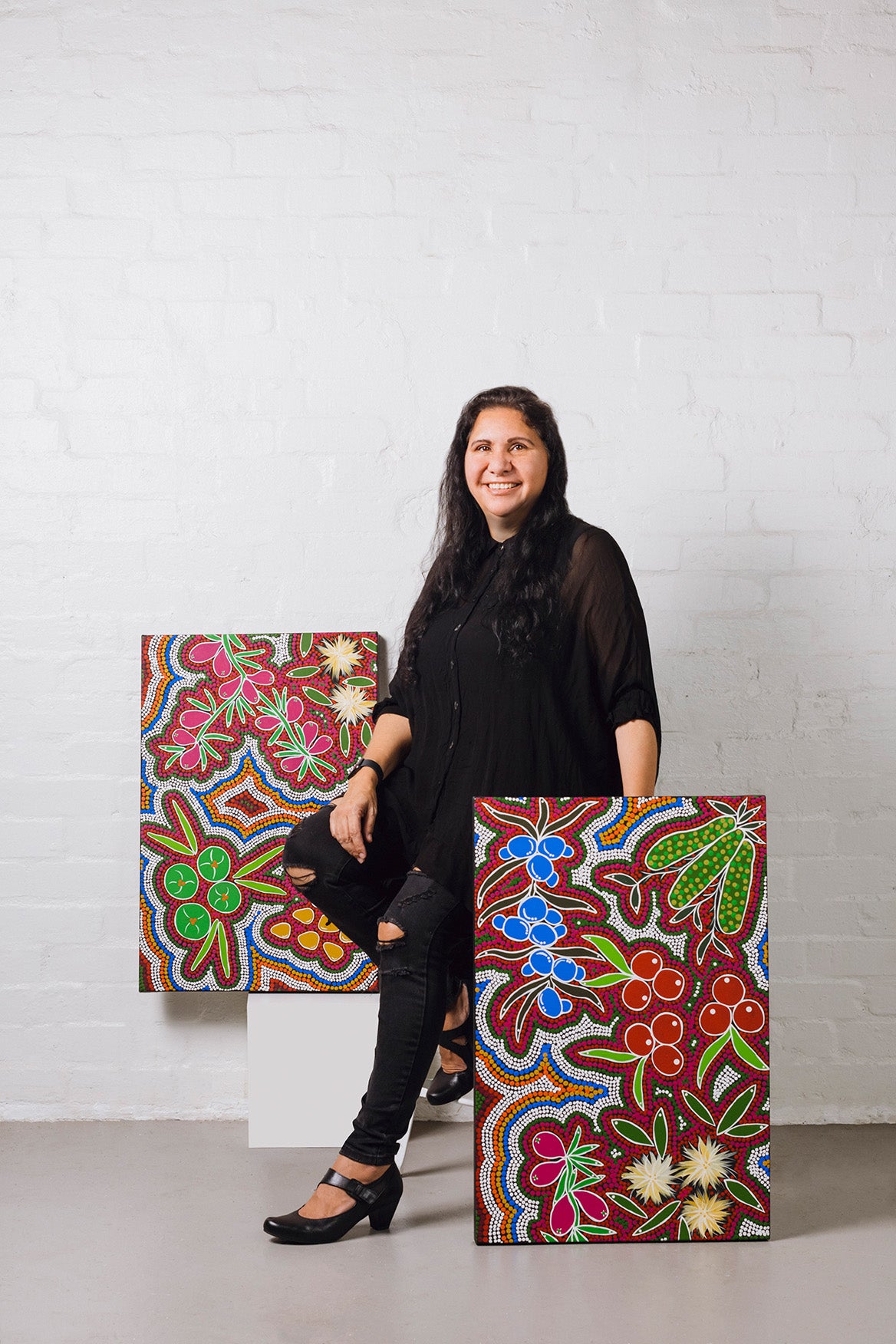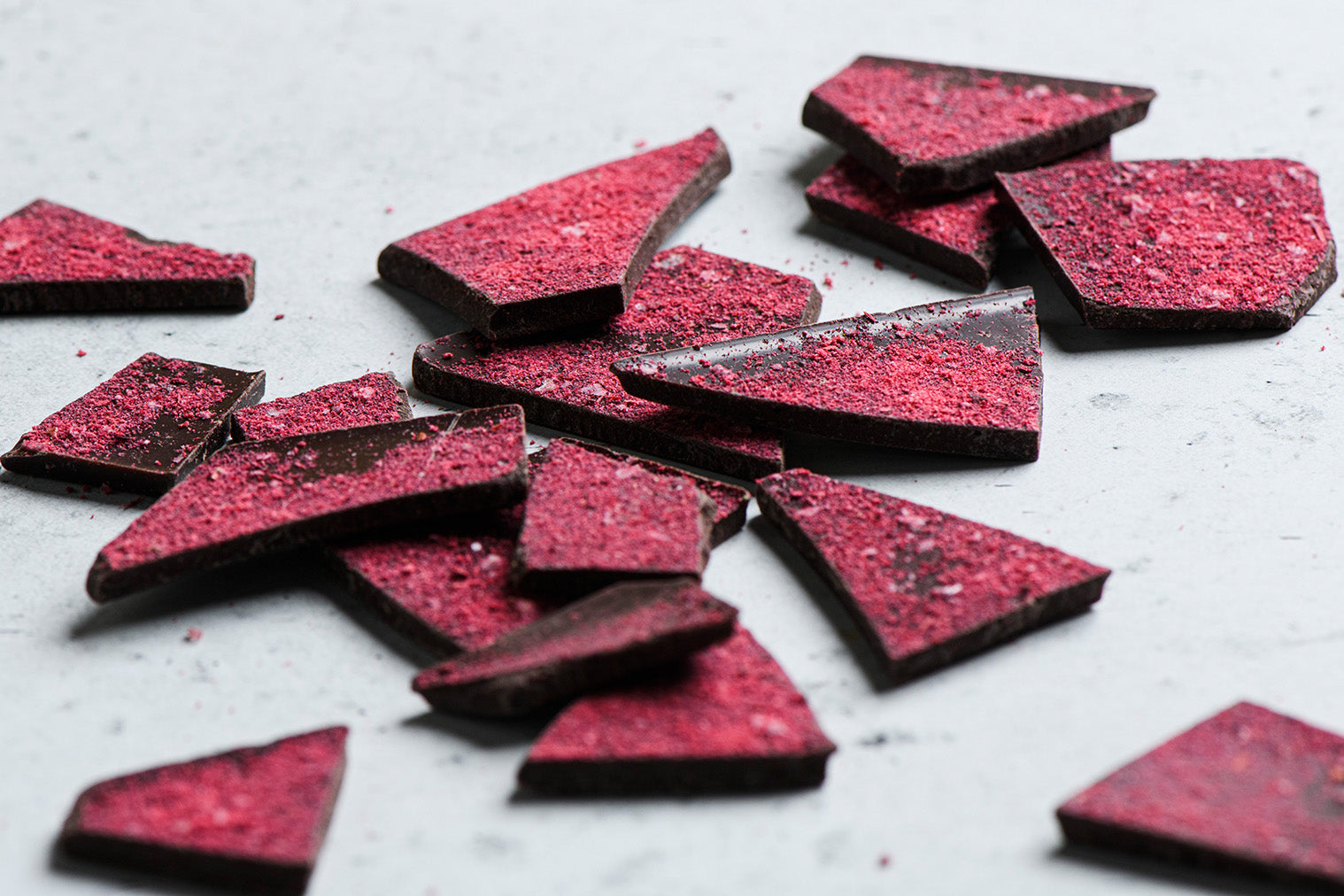 Davidson Plum and Murray River Salt Chocolate Bar Dark
Regular price
Sale price
$12.99
Unit price
per
check_circle In Stock
cancel Sold out
Free Pick Up at Kakadu Plum Co. — (17/95 White Street, Mordialloc)

Usually ready in 4 hours —
Free delivery — on all orders over

$99

!
We have bought back a very popular flavour combination but given it a new look!
Davidson Plum and Murray River Salt. Think sweet, yet a little salty in a bright red colour. This artwork is In collaboration with Indigenous artist and proud Wiradjuri woman, Janelle McQueen.
Each artwork is a special piece of art that symbolises Janelle's connection to land and country. 
"My desire to learn more about our Aboriginal culture came from my mother Iris Clayton, who was a respected Aboriginal elder who worked at the Australian Institute of Aboriginal and Torres Strait Islander Studies before taking up employment with the local Aboriginal medical centre," says Janelle. 
This painting represents the community as they travel out to do the harvest. Because it is a bush harvest it is seasonal and there are factors you can not control. The way the harvest goes traditionally would affect the size of the community. The bottom three layers of the painting shows the community as it grows as part of them doing the harvest. The blue lines are travelling tracks showing the people travelling out to the different locations. The circles represent a meeting place and people coming together. The U shape is a man and the U shape with 2 dipping sticks is a female. The four different circles and meeting places show different community groups as they travel out to do the bush harvest. The pink lines show water which is the rain fall and the flow it goes through because without the rain we don't have the fruit and we don't have the community. Green circles represent the desert limes. White represents the white chocolate and the flavour you get from the chocolate bars. I have also represented the edible flowers in this painting and gold which represents wealth. It does not necessarily mean money, but can mean family and lifestyle and joy. This painting is all about the cycle of life.
Social Impact: 
Handmade chocolate with impact // 33c from every bar goes to The Plum Project to support Indigenous bush food projects on country. 
Ingredients:
Cacao beans, raw organic cane sugar, Davidson Plum, Murray River salt.
size: 70g
Best chocolate ever
Whi knew dark chocolate with Davidson Plum and Salt could taste so sublime. The best dark chocolate combination I have ever tasted. It's a little sweet, tangy and oh so delicious.
Rich, bright, dark and salty
The flavours of this chocolate are very rich. The dark chocolate, the bright Davidson Plum and earthy salt flavour make an interesting combination. It is not particularly sweet but definitely packs a punch with flavour. Very enjoyable after dinner treat. It would be delicious with coffee I'm sure but coffee and I are not friends.
Yum
Your chocolate is great. I use it a lot for presents (if I can resist temptation). I have sent some to in-laws in Japan and it is a hit there too.
New favourite!
My mum gave me a block of this chocolate and it is so zingy and delicious. We're travelling to the Philippines in March and I just stocked up on Kakadu Plum goodies to take as gifts! :-)
This was a gift for a friend of mine. Beautiful artwork on the box.