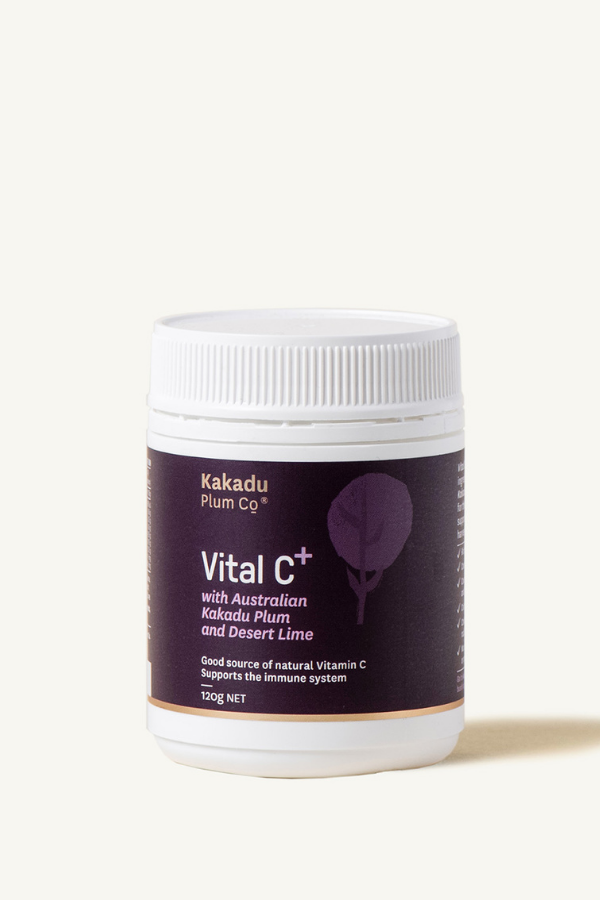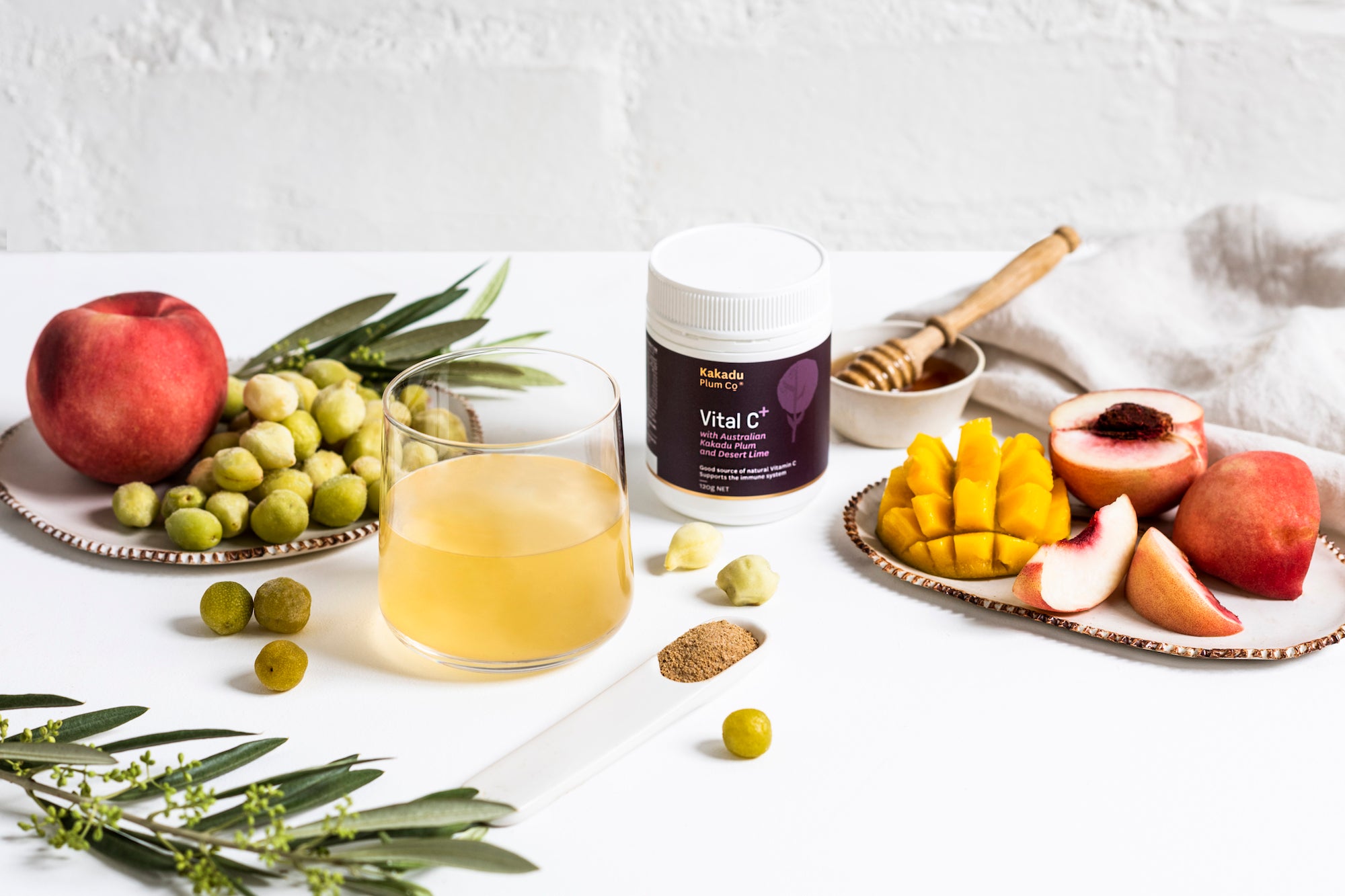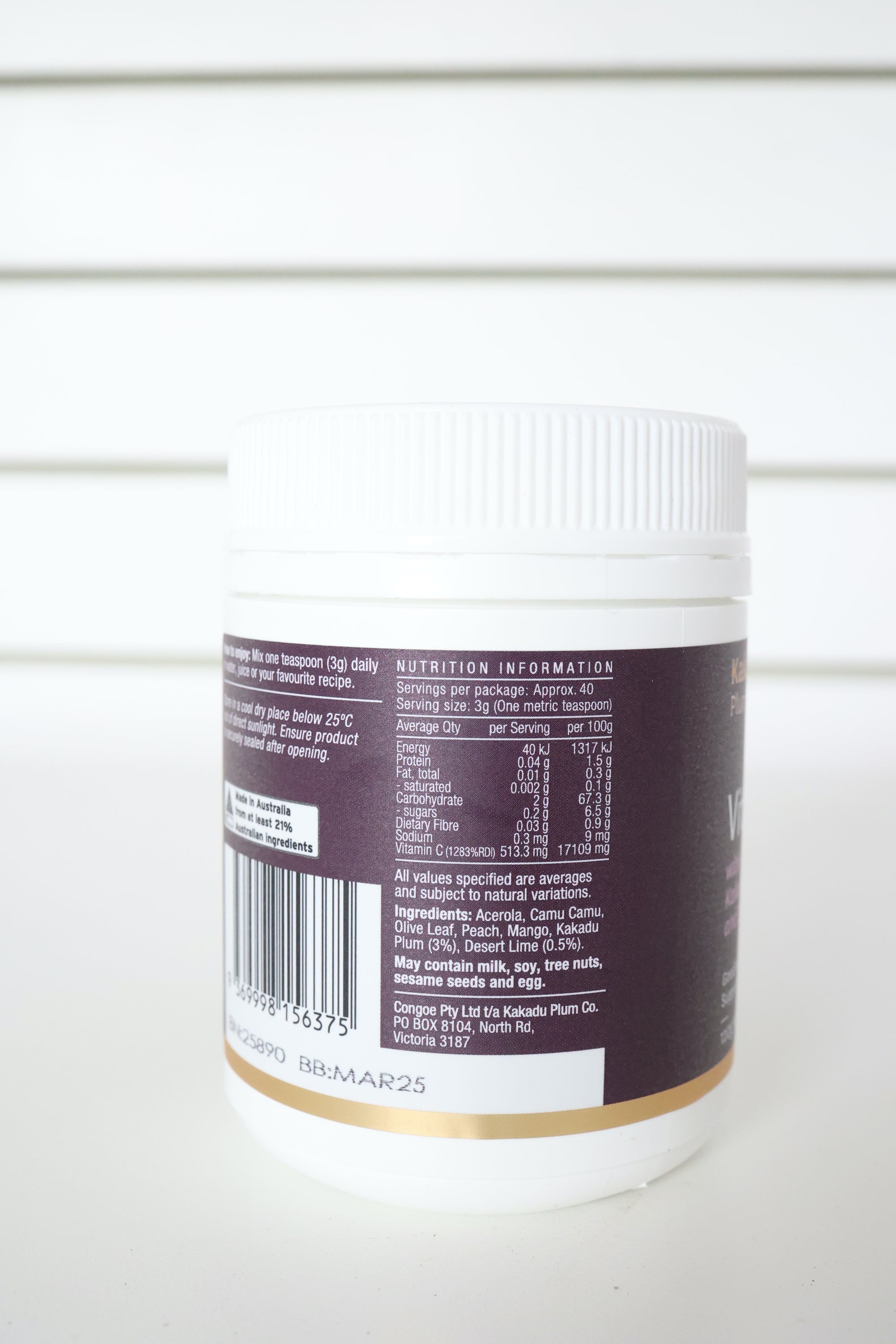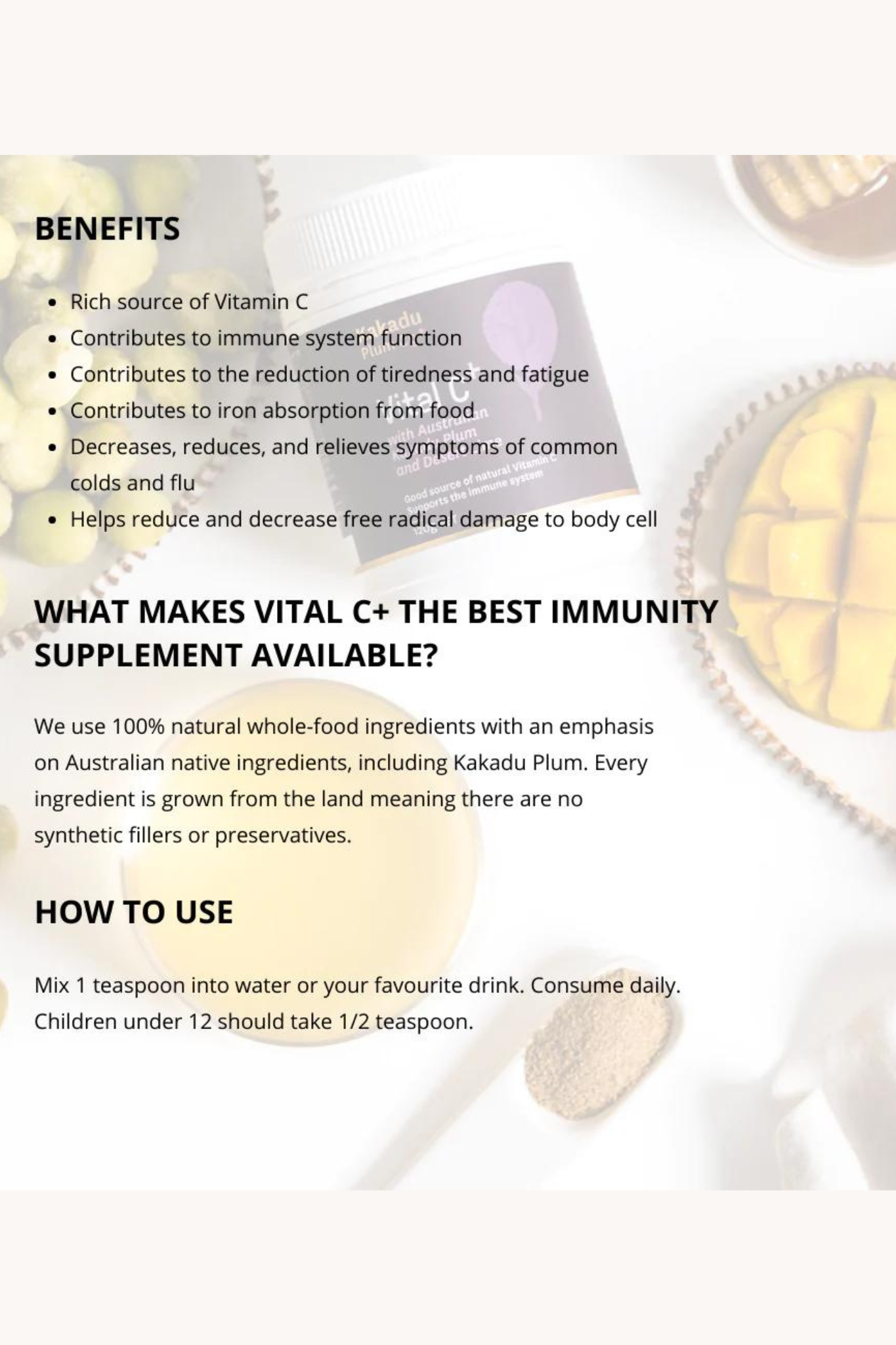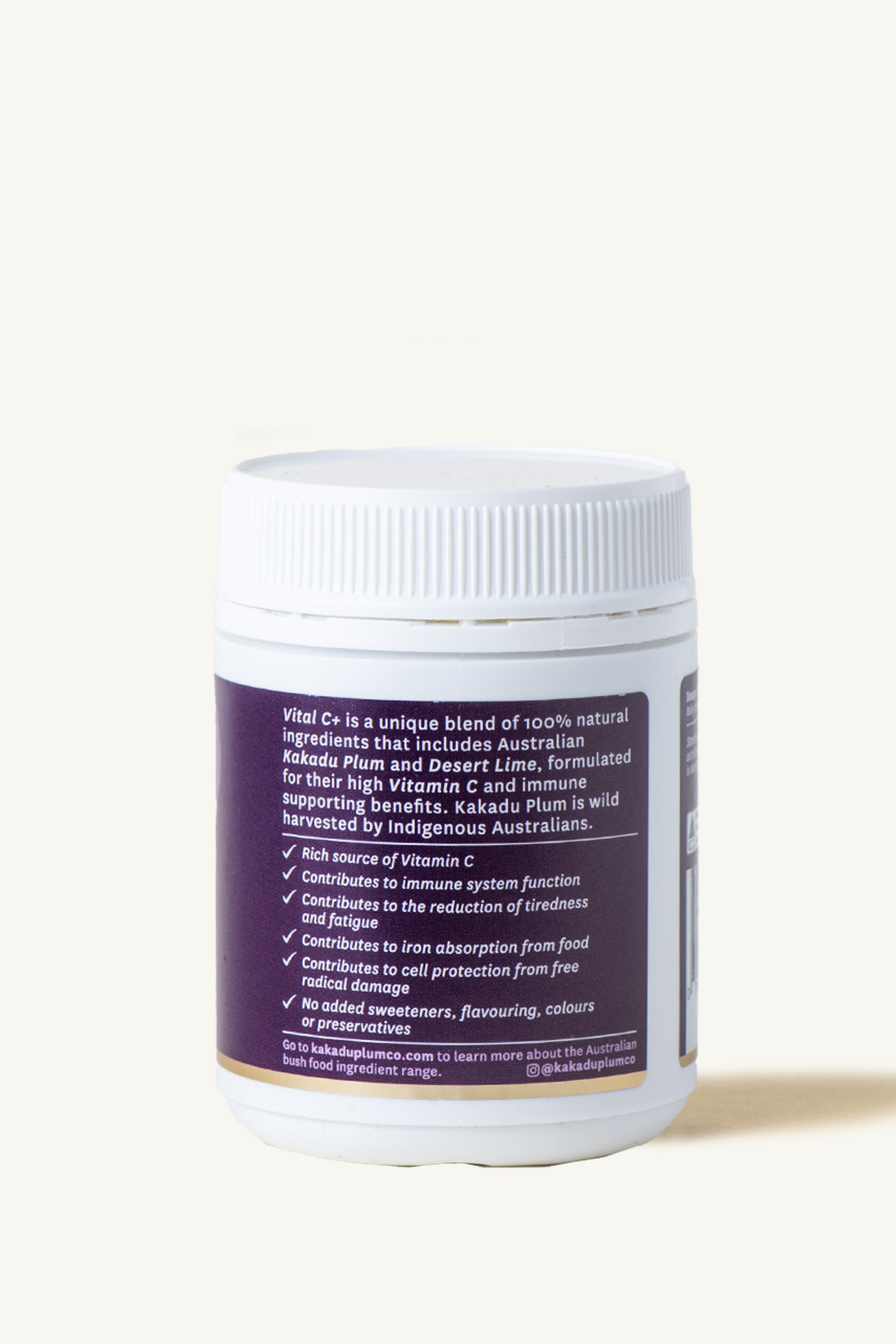 Vital C+ with Kakadu Plum and Desert Lime
Regular price
Sale price
$59.95
Unit price
per
check_circle In Stock
cancel Sold out
Free Pick Up at Kakadu Plum Co. — (17/95 White Street, Mordialloc)

Usually ready in 4 hours —
Free delivery — on all orders over

$99

!
with

Australian Kakadu Plum and Desert Lime



New and improved formulation with double the amount of Kakadu Plum
A unique blend of 100% natural ingredients formulated for their high Vitamin C and immune supporting benefits.

Kakadu Plum is known to have the highest source of natural Vitamin C and 100 times more than oranges.
Vital C+ has over 1000% of your daily vitamin C intake in just one serve. Not only incorporating Australia's hero superfood ingredient, Kakadu Plum, we have also included Desert Lime, Acerola and Camu Camu. This Vitamin C superfood blend will sure keep your health in check all year round.
No added sweeteners, flavouring, colours or preservatives
Benefits
This 100% natural blend is 
- Rich source of Vitamin C
- Contributes to immune system function
- Contributes to the reduction of tiredness and fatigue
- Contributes to iron absorption from food
Acerola: Well-known for being extremely rich in vitamin C. Because of this, it's often used to help with or prevent colds or flu. It's also used as an antioxidant nutrient.
Olive Leaf: Great for immunity, reduces inflammation and used for management of healthy cholesterol levels 
Kakadu Plum: World's highest source of natural vitamin C known to have up to 100 times more than the common orange. It is a pure natural source of vitamin C and high in polyphenols and antioxidants.  
Camu Camu: Because of its high vitamin C content, camu camu is also rich in antioxidants, which have anti-inflammatory properties. Camu Camu also has antimicrobial properties and benefits.
Desert Lime: Desert lime is a very rich source of calcium and contains high levels of Vitamin C, folate (Vitamin B9), Vitamin E and lutein (a compound that plays an important role in eye health and wellbeing). It also has a high potassium:sodium ratio, which may help to reduce blood pressure.
How to use
Powdered for ease of use, simply add the recommended dose to a smoothie, juice or water and enjoy the the soothing natural lemon and fruit flavour, everyday.
Ingredients
Acerola, Camu Camu, Olive Leaf, Peach, Mango, Kakadu Plum (3%), Desert Lime
120g NET
Vegan
Information provided is not medical advice. Statements made have not been evaluated by the TGA and FDA. If you have any serious health concerns, you should always check with your health care practitioner before self-administering Australian bush plants and herbs and new supplements into your diet.
This is so easy to mix. Already feel much healthier after just a week of taking.
Kakadu Plum and Desert Lime bring natures vitamin C and it's just a trustworthy product and reliable supplement, gold standard
VitalC+
Excellent product when you are feeling tired and stressed . Marvellous pick me up. Took 5 working days to get to get to Sydney 2168
Pure and effective
With only real high quality natural ingredients this vitamin C powder is versatile tastes like vitamin C and has only what it says. Very highly recommended it.🥰
Even better
I am loving the new formula, texture and improved flavour. Great start to every day.