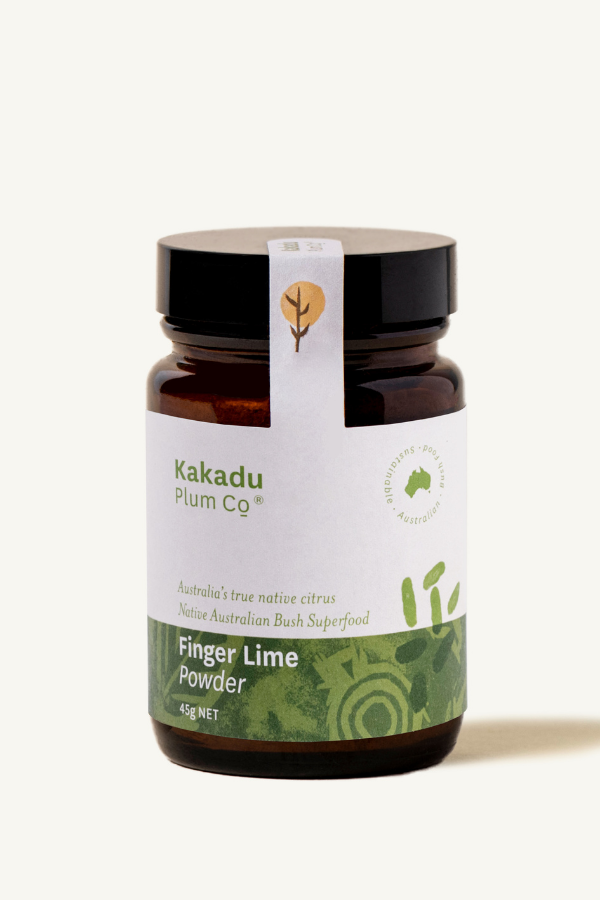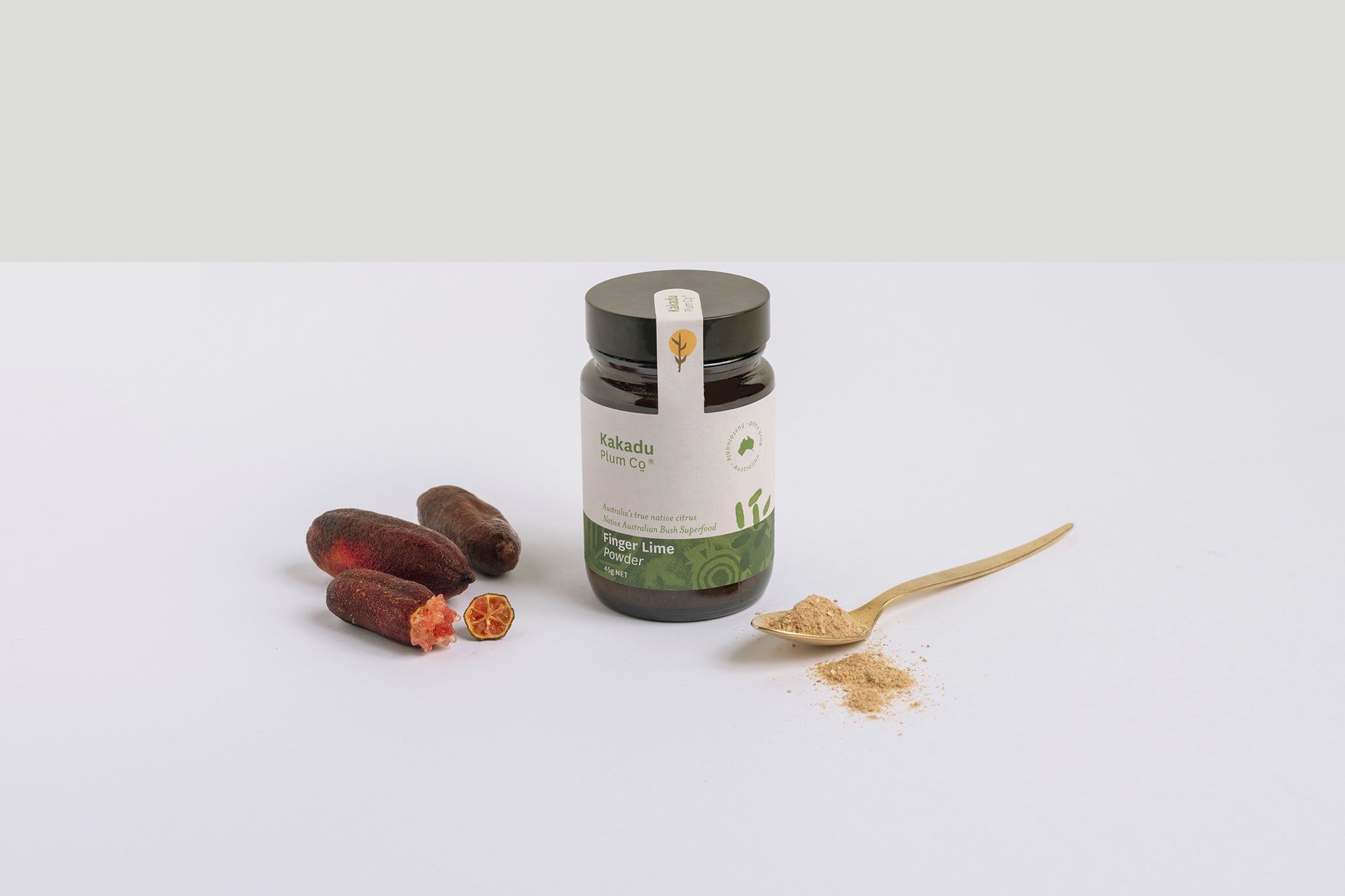 Regular price
Sale price
$32.95
Unit price
per
check_circle In Stock
cancel Sold out
Free Pick Up at Kakadu Plum Co. — (17/95 White Street, Mordialloc)

Usually ready in 4 hours —
Free delivery — on all orders over

$99

!
Finger lime is here.
Named after its shape, finger lime is one of several citrus species native to Australia and grows up to 12 centimetres long. The fruit has separate pulp vesicles, giving the flesh a caviar-like appearance. 

Typically green-yellow in colour, finger lime can also be crimson, purple and black – with the colour of the pulp also varying. 
Finger lime grows naturally in sub-tropical rainforest along the border of south-east Queensland and New South Wales, and is one of the traditional foods of Aboriginal communities in these regions. 

Size: 45g
Health benefits 
✓ Rich in folate and potassium.
✓ Each Finger Lime contains three times the Vitamin C found in a mandarin. 
✓ Contain vitamin E, an antioxidant that protects our cells from damage, and fibre for healthy digestion. 
For your skin, Finger Limes 
✓ Brightens the skin for a radiant glow
✓ Supports collagen production for ageless skin
✓ Soothes and calms sensitive & inflamed skin
How to use
Fresh finger lime is used as a garnish and anywhere that fresh lemon or lime might be used. Use the powder in cookies or icecream or a sweet delicate addition to cocktails.
Perfect for baking and cooking but best used uncooked to maintain its superfood benefits.  Best in a smoothie, juice or sprinkled on cereals and yoghurt. Try these 8 fabulous recipes using finger lime
Finger lime
Absolutely love this product. Have finger limes growing but this is a go between while waiting for more finger limes .
Finger Lime, Kakadu Plum and Davidson Plum
I love all three and use them daily. Firstly on my porridge in winter and my yoghurt in summer for breakfast.
I love Finger Lime mixed with Olive oil and Balsamic Vinegar as a salad dressing for my salads in summer and winter and Davidson Plum with fresh fruit and ice cream.
I'm unsure what to explore next but I know it's going to be delicious, make a huge difference to my food, and will be great for me.
Love you products Kakadu Plum
Finger Lime Powder
I enjoy using this powder in baking products and home made ice locks. My favourite is in fruit salad as the sourness of the finger lime powder goes well with it with the added benefit of Vit c
Body Deep
I have been using Finger Limes as a skin moisturiser for about 8 months. Love that I can also take Finger Limes internally for my Skin. I mix 1/4 of a teaspoon in my morning smoothie; very delicious.
Finger Lime Powder
I use this as a topper for my cereal and yoghurt. Love the health benefits of this powder