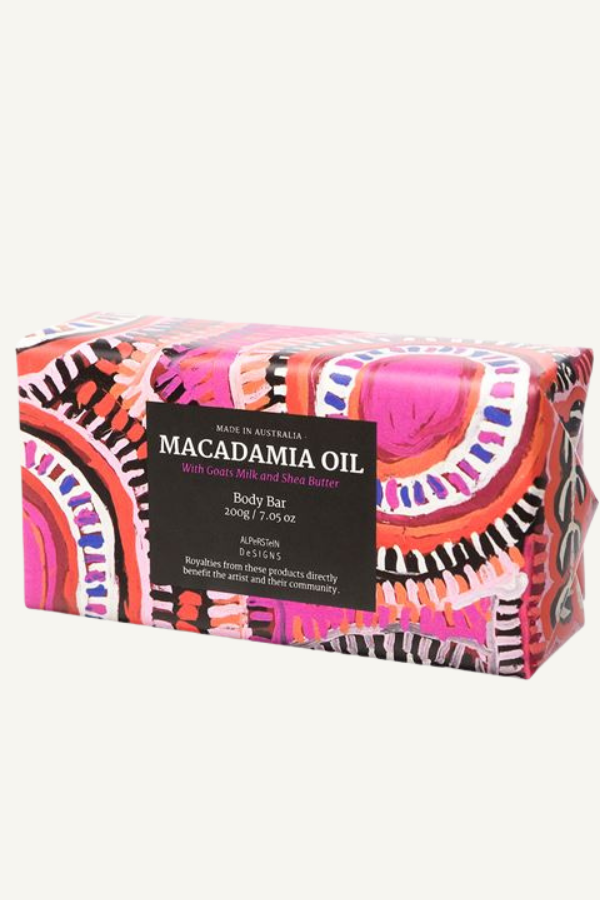 Murdie Morris Macadamia Oil Body Bar
Regular price
Sale price
$13.00
Unit price
per
check_circle In Stock
cancel Sold out
Free Pick Up at Kakadu Plum Co. — (17/95 White Street, Mordialloc)

Usually ready in 4 hours —
Free delivery — on all orders over

$99

!
From a tradition spanning thousands of years comes a piece of art that is a wonderful mix of beauty and practicality…

A bright collection that feature the artworks of some of Australia's finest Indigenous artists. With their bold colours and intricate designs, these pieces skillfully reflect the works on which they're based.

But there's an added bonus to Alpersteine's indigenous art reproductions,directly benefits the artists and their community, so you'll be helping out isolated settlements in outback Australia with your purchase.

Now you can breathe in the fresh, aromatic fragrance of the Australian outback with Alperstein's collection of Body Bars with natural local ingredients including Macadamia Oil, Kakadu Plum, Manuka Honey and Lemon Mrytle. They're resplendently packaged in art work from each artist.  Stack them up on your bathroom shelf to make an arresting display. The only certainty is that they're so naturally good, you'll want to use them always.
Beautifully presented in a reproduction of Murdie Morris's art work Two Dogs Dreaming.

Weight: 200g
Product info

Made in Australia.
Crafted from macadamia oil with goats milk & shea butter.
All natural ingredients.
Not tested on animals.
Makes a sweet gift for overseas guests.
Royalties from this product directly benefits the artist and their community.
Art work is reproduced under licence.
About the artist
Murdie (Maudie) Nampijinpa Morris was born in the 1930s at Rabbit Flat, a tiny settlement in the middle of the harsh Tanami Desert in the Northern Territory of Australia about 160 km from the Western Australia border and 315 km north-west of Yuendumu.  Her parents would have taken her out bush in around Nyirripi area, showing her sites and teaching her the traditional ways of her country.  In the early 1980s she settled in Yuendumu and worked at the Old People's Home – a Program that cares for the elderly by helping them when they are sick, and being with them when they are alone or when they are frighten during storms. She was married but is now a widowed woman. She never had children.She now lives full time in Nyirripi.
Murdie has been painting with Warlukurlangu Artists Aboriginal Corporation, an Aboriginal owned and governed art centre located in Yuendumu, since 2012. She was prompted to paint when she attended a workshop in 2012. She enjoys painting, and paints her father's jukurrpa, Maliki Jukurrpa (Domestic Dog Dreaming) and Malikijarra Jukurrpa (Two Dog Dreaming). Dreamings that have been passed down through the generations for millennia and relate directly to the land, its features and the animals and plants that inhabit it. She uses an unrestricted palette to develop a modern interpretation of her traditional culture.
O.M.G!!!
If I could afford to buy a 44 gallon drum of this body wash, I would!!! Whoever came up with the recipe for this deserves a medal, and I LOVE it. For hours after showering, my bathroom smells like coconut and visitors remark on it. Did I say I LOVE it? I will be ordering more when I can afford it. Thank you Kakadu Plum.
Lovely gift idea
Lovely bright coloured packaging. Lovley smelling soap. Makes a great gift!